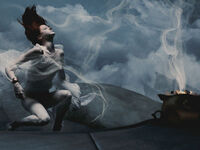 Pythia is one of the characters in the film 300. She is played by Kelly Craig. Pythia was one of the most beautiful girls of Sparta, chosen by the epheros to live among them as their oracle. According to the tradition, her prophecies were messages from the gods themselves.
Bio
[
]
Pythia is based on the real-life oracle of Delphi, the Pythia, a highly respected oracle in ancient Greece. According to Herodotus, Leonidas I consulted with her, when Sparta recieved a request from the confederated Greek forces to aid in defending Greece against the Persian invasion. The Pythia made the following prophecy: "For you, inhabitants of wide-wayed Sparta,
Either your great and glorious city must be wasted by Persian men,
Or if not that, then the bound of Lacedaemon must mourn a dead king, from Heracles' line.
The might of bulls or lions will not restrain him with opposing strength; for he has the might of Zeus.
I declare that he will not be restrained until he utterly tears apart one of these." The Pythia was a noble of aristocratic family, sometimes a peasant, sometimes rich, sometimes poor, sometimes old, sometimes young, sometimes very lettered and educated woman. The job of a priestess, especially the Pythia, eas a respectable career for Greek women. Priestesses enjoyed many liberties and rewards for their social position, such as freedom from taxation, the right to own property and attend public events, a salary and housing provided by the state, a wide range of duties depending on their affiliation, and often gold crowns.